This scholarship is a memorial to Steve Haskins: actor, director, set designer/builder, and go-to man for all things having to do with community theater in our area. On the left is a picture of Steve singing "Consider Yourself" in Oliver! In the background is a list of some of Steve's acting roles. On the right, Steve takes a break from preparing for his role as The Rev. Arthur Humphrey in the October 1998 production of See How They Run.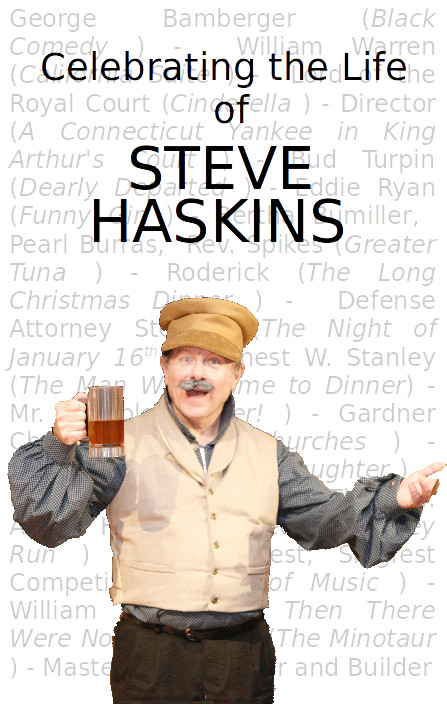 ABC Players will award up to two annual scholarships of $250 each. Funding will be disbursed upon proof of enrollment for the current school year. Scholarship winners will be selected based upon both quality and quantity of participation in ABC Players productions within the previous three seasons, without regard to financial need, race, color, sex, national origin, religion, age, or sexual orientation. There is no limit to the number of years an applicant may apply for or receive scholarship awards.
To be eligible for the Steve Haskins Memorial Scholarship, you must meet the following criteria:
Applicant must be accepted into an accredited post-secondary program for the current school year.
Applicant must be a current member of ABC Players in good standing or submit a $10.00 application fee.
Applicant must have participated in at least one ABC Players production in the past three seasons (on-stage and/or backstage).
Application must include two letters of recommendation with at least one of the letters submitted by an active or past member of ABC Players. (Scholarship Committee members are not eligible to write letters of recommendation.)
Applicant must submit an essay no longer than one page answering the following two questions:

How has theater shaped you as a person?
How do you envision community theater being a part of your future life?
Please send all information by April 12th to:
ABC Players
Scholarship Committee
P. O Box 283
Athens, Ohio 45701
Decisions will be made by May lst.
Here's a link to the rules and regulations that the scholarship committee follows.
Scholarship Winners & Sponsors by Year of Award
2012 Winners: Kaylla Steadman and Sam Witmer
2013 Winners: Sandra E. Russell and Elizabeth "Lizzy" Bogoniewski
Sponsors: J & M Commercial Painting and Nelsonville Buckeye Wash2014 Winners: India Mitchell and Sandra E. Russell
Sponsors: Berean Community Players and Cycle Path Bicycles
2015 Winners: Jade Morris and Jackson Savage
Sponsors: O'Betty's, Mathews Insurance, and Gigi's Country Kitchen
2016 Winners: Joe Asente and Alexis Fritchley
Sponsors: Raphael's, and Project C
2017 Winners: Kylie MacNeal and Chris Parsons
Sponsors: The cast and crew of the May 2016 production of All the King's Women and the ABC Players Kids who raised money by selling hot chocolate and baked goods during the 2016 Nelsonville North Pole events.2018 Winner: Brittan Posey
Sponsors: Our patrons who participated in 50/50 drawings.2019 Winners: Zoie Lanning, Sydney Lewis, and Fae Maffin
Sponsors: Joe Balding and Kelly Robideau-Huq. 2021 Winner: Katie Maccabee